Navă Music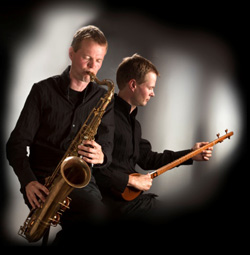 Jan Pieter van der Giessen has founded Navă Music. Navă is a Persian word which means "sound". Therefore, Navă Music means "The Sound of Music". According to him, the purpose of music is silence. His personal goal is to find an inner state of silence through sound, and to share it. Navă Music is both an artistic organization and a music school. Jan Pieter is the first Dutch music teacher in Holland for Iranian music. Furthermore he gives concerts, lectures, and organizes multicultural events.
Being raised in a musical family, Jan Pieter started with classical clarinet. When he was eighteen years old, he added the tenor saxophone, and started playing pop, rhythm & blues and jazz. During his early twenties he performed frequently in the entertainment world.
In 1994 he met an Iranian Friend, and got acquainted with Persian music and poetry. He became fascinated by the subtlety of the quarter tones of the Persian scale, the extensive use of improvisation, and the close-to-nature instruments. He was especially touched by the intimate connection between music and poetry in the Persian culture.
After hearing Jalal Zolfonun playing setar during a 'no-ruz' concert he started taking lessons from Hamid Motebassem, and additional lessons from Majid Derakhshani and grandmaster Mohammad-Reza Lotfi.
With Majid Derakhshani Jan Pieter played the setar and saxophone in the Taraney ensemble, all musicians having their roots in Europe, the Middle East and India. The ensemble performed in The Royal Festival Hall in London.
Furthermore, Jan Pieter translated many Iranian poems from the famous poets like Rumi, Hafez, and Saadi. After learning the first principles of Persian language from his friends, Jan Pieter went to Iran several times, where he studied the language at the International Centre for Persian Studies in Teheran. In Iran, he had the privilege to share the daily life with a couple of families, and visited tar and setar builders like Ramin Jazayeri and Mohammad Reza Ebadi. He experienced the famous generous Iranian hospitality.
In essence, Jan Pieter is very inspired by the Persian culture. Learning another culture is a great opportunity to mirror one's own, which is a key to self knowledge.