Concert - Persian Masters Of Improvisation
An extraordinary meeting of two uncontested masters of Persian classical music:
Hossein Alizadeh, on tar and setar, is the consummate authority on constellations of the music space;
Madjid Khaladj, on tombak, daf and zang, renders an ideal approach for appreciating Persian percussion.
Time:

Saturday March 18th 2017, 20:00 hrs

Location:




Golden Tree
Vegerweg 75
7525 PL Enschede

Directions:

Entrance fee:

€ 29,50; students € 15

Reservation:



E-mail: info@goldentree.nu
Tel: +31 - 6 - 50 63 82 76
Limited seats available - tickets only by reservation
Programme
1st part / 45 min / Improvisation on Setar,Tombak & Zang-e saringoshti
2nd part / 45 min / Improvisation on Tar, Tombak & Daf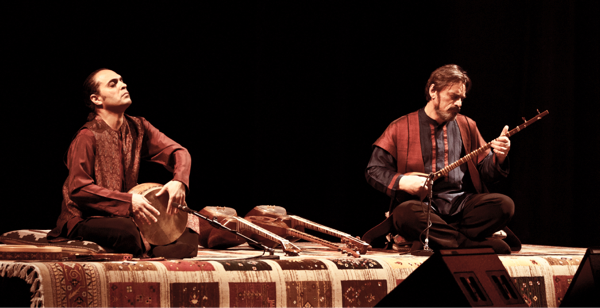 Improvisation in Persian Music
During this concert, our performance once again took shape through bedaheh pardazi, which is improvisation, or more literally, composition at the presence. In the intricate strictures of Iranian music, bedaheh pardazi has an important status. The freedoms and constraints work together to provide unlimited paths for reinterpretations of strictures and modes. Creativity convenes and flourishes, giving birth and rebirth to timeless moments which unveil the mystical foundation of the Iranian music repertoire. The apex of this effort establishes the base point for improvisation. It creates a temporal but solid point around which one can capture the fleetingly ambiguous and indeterminate music each instant: at the apex we can escape structure and stricture, and let ourselves to be carried off by a shared ecstatic impulse. (Madjid Khaladj)
Hossein Alizadeh
Hossein Alizadeh was born in Tehran in 1950. He is considered as one of the most important figures in contemporary Persian music, exemplifying excellence in traditional Persian music today. He studied the classical Persian composition system, the Radif, under various masters, including Houshang Zarif, Ali Akbar Shahnazi, NurAli Borumand, Mahmood Karimi, Abdollah Davami, Yousef Foroutan, and Saied Hormozi. He later recorded the entire body of the Radif based on the interpretations of Mirza Abdullah for Tar and Setar. Alizadeh received a BA in Music Composition and Performance from the University of Tehran, and then studied Composition and Musicology at Berlin University. He has taught at University of Tehran and Tehran Music Conservatory.
He has performed, as a solo artist, in Iran, North America, Europe and Asia. He was the conductor and soloist in The Iranian National Orchestra of Radio and Television. He established the acclaimed Aref Ensemble and has often worked with the Shayda Ensemble. His first professional experience in Europe was performing with the famous Bejart Ballet Company's orchestra for Maurice Bejart's ballet, Gulistan. Some of Alizadeh's most noted works are The Nava Improvisations (1976), Riders of the Plains of Hope (1977), Hesar (1977), Revolt (1983), Ney Nava (1983), Dream (1986), Torkaman (1986), Raz-O-Niaz (1986), Delshodegan (1987), Song of Compassion (1991), New Secret (1996), A Time for Drunken Horses (2000), Turtles can Fly (2004), Endless Vision (2004), Nive Mang (2006), Under the Razor (2007) and Ode to Flowers (2007), Echoes of Light (2009). Endless Vision has been nominated for the Best World Music Album of the Year 2006 in the 49th Edition of the Grammy Awards.
Madjid Khaladj
Born in Ghazvin, Iran in 1962, -The most passionate percussionist of Persian art music-(Le Monde newspaper). Madjid Khaladj began studying the tombak at age seven. As a traditional musician and skilled pedagogue in several instruments, he is unanimously recognized as a master of Iranian percussions. Highly active internationally, he has perfomed in festivals, concerts, and conferences around the world. He has produced various recordings and art movie soundtracks with Ry Cooder and Lisa Gerrard, and has appeared in radio and television broadcasts.
In 1984, he was invited to teach Iranian percussions at the Center for Middle Eastern Music Studies at the Institute of Musicology of Paris- Sorbonne, then under the direction of Yehudi Menuhin. Using this opportunity, he has introduced many western musicians to Iranian music. In 1996, he founded the Ecole de Tombak in Paris (Center for Iranian Percussion Study). Since 1998, he has also been teaching at the Cite de Musique in Paris, France and at the State Academy of Music in Basel, Switzerland (Musik Akademie der Stadt Basel in Switzerland).
Madjid Khaladj constantly investigates the vast possibilities in improvising within the Persian musical system, and beyond. He has developed a distinct approach for innovations in Persian percussion, in both improvisation and accompaniment, whose echoes are present in the work of contemporary percussionists who have embraced it over the past few years.The unequalled beauty of his style, his mastery of rhythms and the brilliance of his spontaneous creations not only place him in the top ranks next to great classical Persian music masters, but also distinguish him as a major figure in world percussion.Some of Khaladj's most noted works are: Anthology of Iranian Rhythms, Vol. I (1997) & Vol. II (1999), Iranian Percussions (2000), DVD of Tombak (2005), Nafas/ Iranian Art Percussion (2006) and the numerous recordings with masters such as Hossein Alizadeh, Hossein Omoumi, Dariush Talai, M.R. Lotfi and M.R. Shajarian.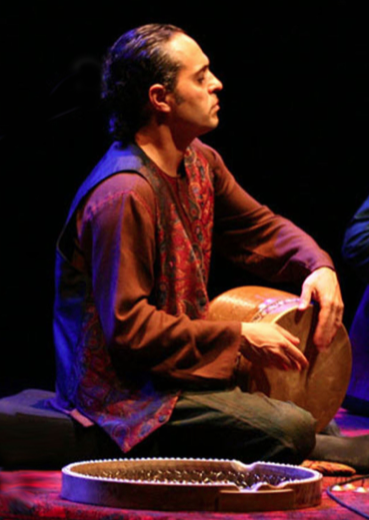 Media